Top Message - Tsuneishi Heavy Industries (Cebu), Inc.
President Yasuaki Seto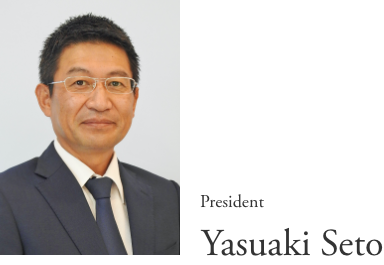 We sincerely hope that this year will be a wonderful year for all of you.
Along with the global economic situation due to the pandemic the business environment for our company continues to be difficult. The slowdown in China's economy, having been affected by high resource prices, has become apparent and its impact has spread to the world. The outlook for the business environment this year is also expected to be harsh.
Like two years ago, our greatest mission with comprehensive strength is "to deliver all ships on schedule", and we are proud to have been able to accomplish that.
I think that we will continue to be restricted by Corona this year, but even in such a situation, we will work on improving profitability including environmentally friendly resource-saving activities in order to improve our earning power, and I would like to focus on creating a system to prepare for increased production by building bulk carriers.
To that end, I would like all employees to take action without hesitation, without being content with the current situation, without forgetting the sense of crisis, and paying attention to the trivial daily awareness in order to improve organizational strength.
Lastly, I would like to express my deepest gratitude to all the Tsuneishi Group companies and to express my deepest greetings at the beginning of the year in my hopes for your happiness and health.